If you find yourself in the hustle-bustle of Washington DC, you might enjoy escaping into the elegant and tranquil St. Regis Hotel for afternoon tea. The afternoon tea ritual is held daily in the beautiful lobby, with French windows, gilded and painted wood ceilings, and an array of beautiful flowers. Whether you are a hotel guest, a local, or a visitor to the city, you are warmly welcomed by the friendly doormen and wait staff. 
History of Afternoon Tea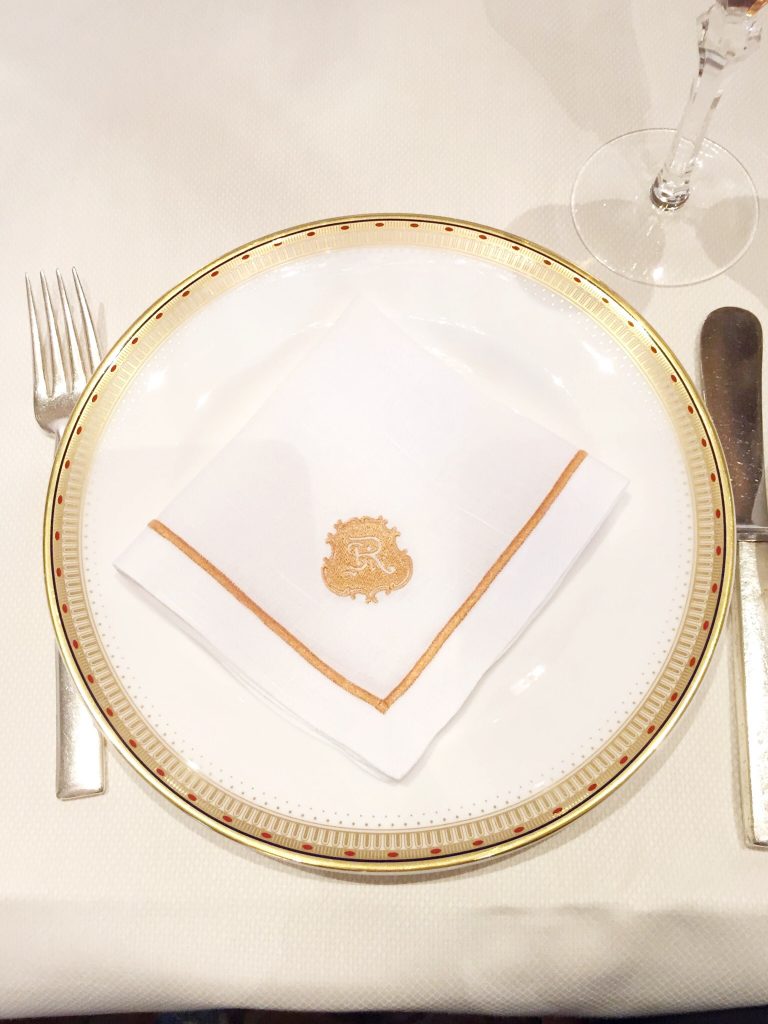 The afternoon tea was introduced in England in the 1800's. Anna, the Duchess of Bedford, would become hungry in the late afternoon so she was served a light snack and tea to hold her over until her eight o'clock dinner. Often, she invited friends to join her and the practice of tea became popular.
The History of Afternoon Tea details high tea and low tea, they are often confused. "High tea" and "low tea" are determined by the height of the table you are served at.  The English ladies were served "low tea" in the afternoon around four o'clock.  The middle and lower class were served a more substantial meal called "high tea' in place of dinner, around five or six o'clock.  What is wonderful about the St. Regis is that it steers clear of the labels and refers to this time as the afternoon tea ritual.  We were served on a beautifully set low table.
Steeped to Perfection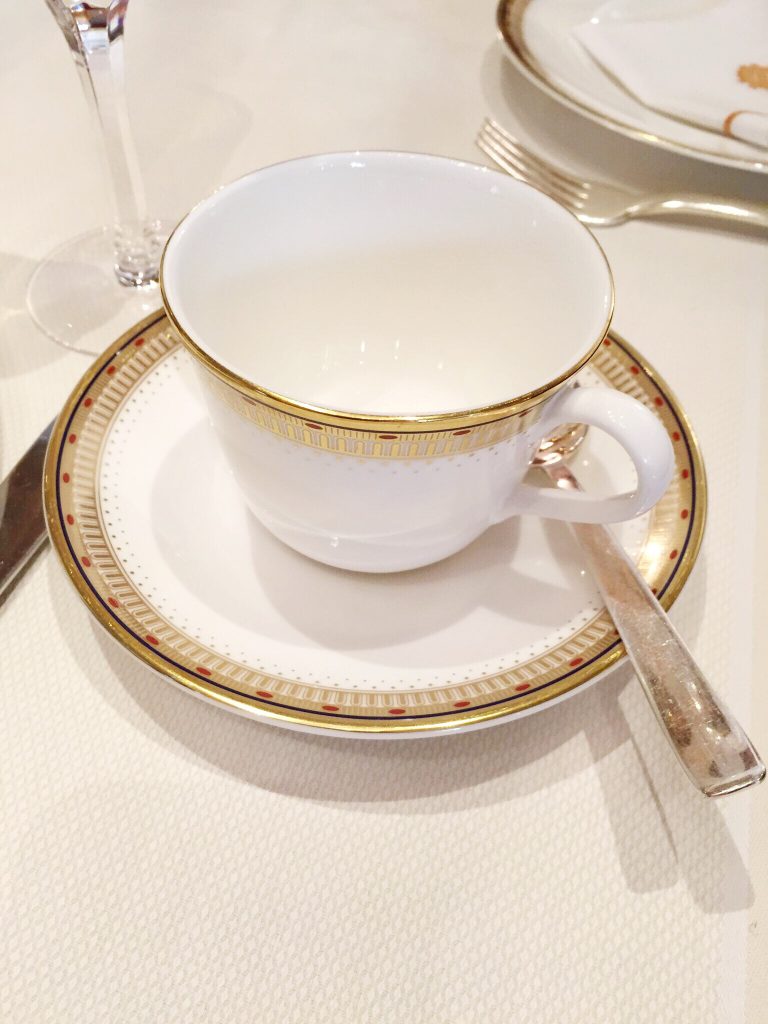 The St. Regis Washington D.C. has partnered with Harney & Sons Tea Company to provide a bespoke and unique tea experience.  Whether you choose a black, herbal, or green tea it is steeped to perfection, and your cup will be refilled with wonderfully hot tea throughout your visit.  The St. Regis blend was our choice. The hand selected black tea, infused with cherry blossoms seemed an appropriate choice for this capital city. A few of us added a glass of champagne to accompany our tea and delicious finger sandwiches and desserts.
An Array of Savory and Sweet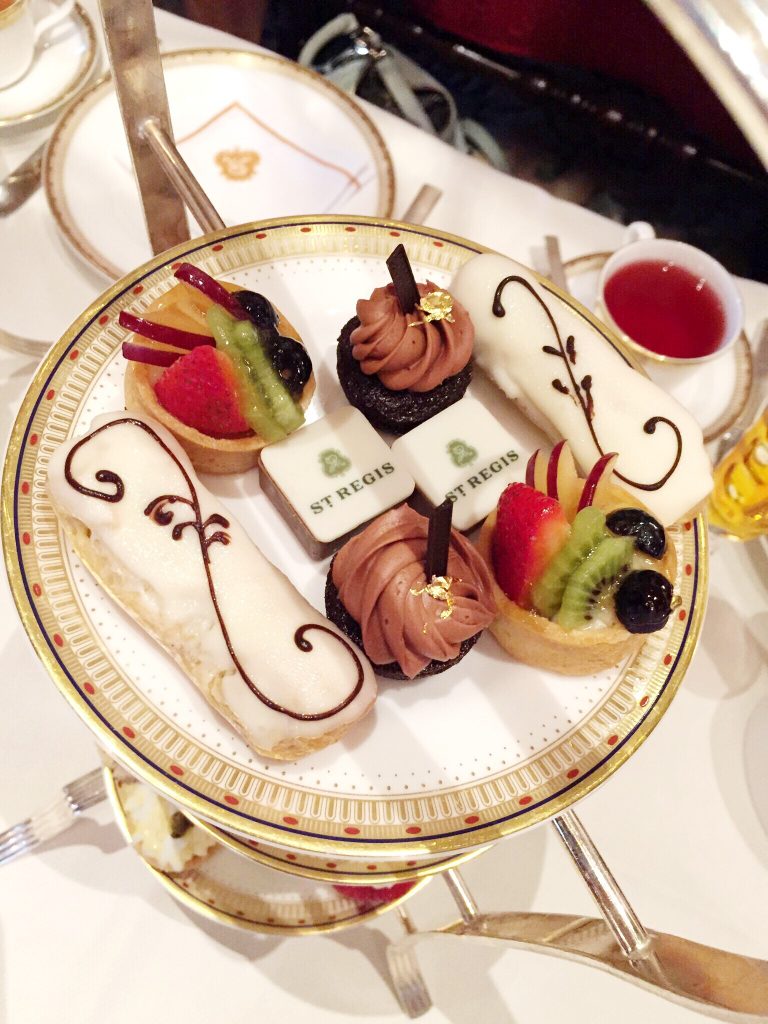 No choice needs to be made, a tiered plate of both savory sandwiches and sweet bites are presented in a lovely fashion.  The savory choices included Scottish smoked salmon with dill and crème fraiche, the classic cucumber with avocado, egg tartlet with fried capers and lemon, savory strawberry with chive crème fraiche and cream cheese, and delightfully prepared tuna. The sweets included a coffee éclair, scones, cookies, fruit tarts and chocolate almond gateau.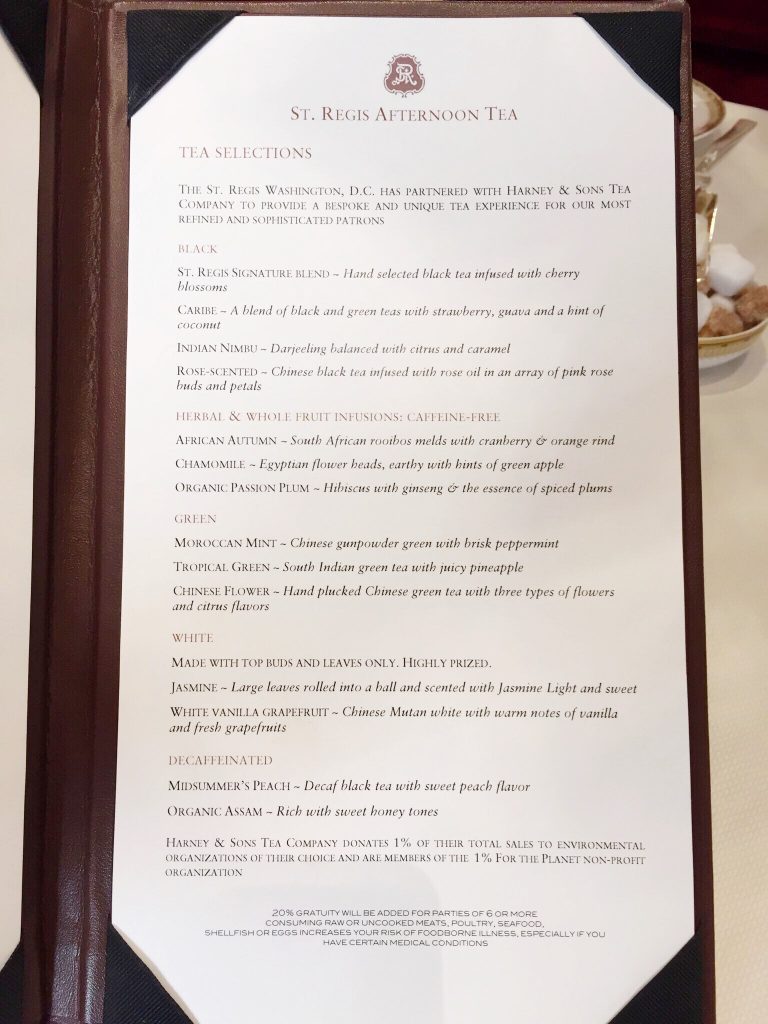 The afternoon tea at the St. Regis is a fun place to meet a friend and recap the busy day.  It is a respite of calm in a chaotic city.  The elegance and charm of the hotel cannot be beat. Afternoon tea is traditionally a mini meal, but we walked away quite full and satisfied at the St. Regis. We celebrated a special 90th birthday and visited so long we were also able to experience the six o'clock sabering.  The sabering is the opening of a champagne bottle with a sword.  It was a formal ceremony in the lobby, followed by a pour of champagne for those watching.  A bonus to long afternoon tea!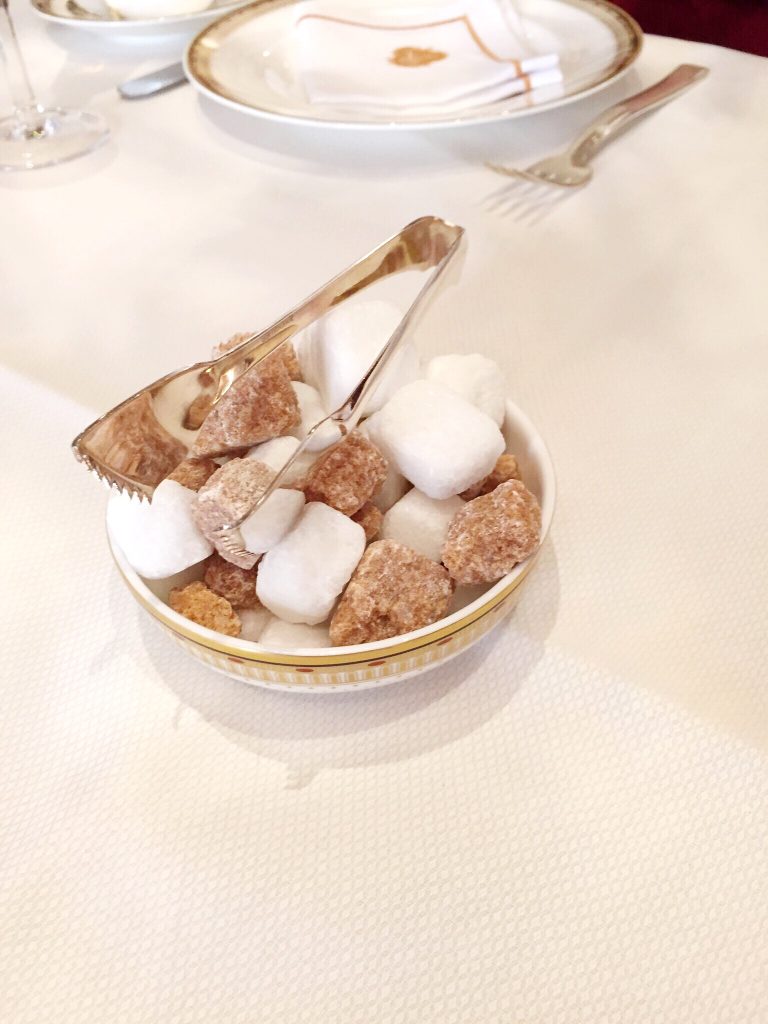 The St. Regis Washington DC is a world class hotel, formerly The Carlton Hotel. It is an historic hotel, listed in the National Register of Historic Places.  It is a favorite of presidents and celebrities.  But on an afternoon in October, a few ladies from California and Illinois took over the lobby and enjoyed afternoon tea!